The Request for Proposal stipulated;
"Because our honoree has contributed to Sanofi Pasteur on a local and global level and because of his love of music and art we have chosen the following: Title: "Working in Harmony," Theme: Featuring humanitarian, public health and musical images, visually representing both the globe and also the Pocono Mountains, given the impact of our honoree's efforts."
The size was twenty one and a half feet wide by five feet tall; I proposed to do it in 6 panels of hardboard, with wooden supports behind that bolted together. You can see the drawing I submitted with my proposal above right, below the finished painting.
The Nuts & Bolts
I had in mind what I used to do in the mid 1980's, when I lived in a studio apartment, but was doing large scale paintings. Back then I made my own stretchers in a modular way; the reinforced squares & rectangles would bolt together to form a support much larger than I otherwise could have managed to transport or store. In those days I used canvass, but now I almost exclusively use board of some sort. For the commission I used "hardboard" that was glued to a supporting framework of basswood.
Above, the finished painting, "Working in Harmony" oil on panel, 21.5' x 5' 2016
Below, the sketch I submitted with my proposal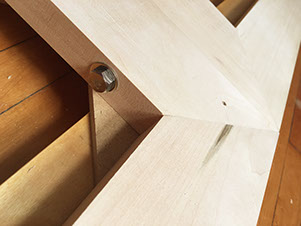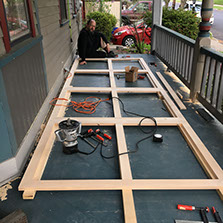 Left, close-up of one of the bolts joinging the framework for two of the panels.
Above, my husband Tagor Vojnovic with the framework for 4 of the 6 panels bolted together.
Right, he also had to build a custom easel.
Before I could paint, the panels had to be fabricated and primed.
You can't walk into an art supply store and just buy a twenty-one and a half by five feet high paintings support. It's something you have to custom fabricate, and without my husband's perfectionist woodworking abilities I would not have even attempted this commission.
This painting was the thing that swallowed my house!
The only place in my house where I could fit something twenty one and a half feet wide was on the ground floor, going the width of my house through two rooms. Luckily my front entrance and the parlor have a big, open space between them. We had to take down the light fixture in the hallway so it wouldn't hit the top of the painting, and even after moving various pieces of furniture, it was almost impossible to get out the front door.