New work at Book & Puppet
I am discontinuing some of my jewelry line. The last two wire wrapped pendants and beaded earrings are on display at Book & Puppet. But the good news is I have some bold, new forged brass pendants there.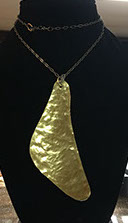 My pieces are designed and fashioned one at a time, by me, with quality materials such as semi precious stones, pearls, made in USA Vinaj brand chain etc.
Online Store F.A.Q.
Q. How do I buy what I see?
A. Sorry I don't have "buy now" buttons on every item yet. If you see an item you want, and it doesn't have a button, click the contact tab at the top, and email me. I can sell to you online, either by putting a button on the site for that item or invoicing you through PayPal.
You Can Buy Direct From the Artist
I love communicating directly with my patrons-those of you who buy my work and thereby support my art. If you want to buy online